Free Whitepaper
Hytera Industry Report for Oil&Gas
A Deep Insight into the Development Path and Future Opportunities of Oil & Gas Communications Network
Sustainability is constant focus for the oil and gas industry and companies have been using digital technologies every year to improve productivity, reduce controlling costs, and enhance reliability and safety. Improving safety in operations is one of the highest priorities for the oil and gas industry, and the whole industry is strictly standardizing their operations, identifying potential hazards and managing risks at every stage to ensure safety.
The Oil and Gas industry nurtures a very strong safety culture, even under the most benign circumstances. When workers are required to work in more remote regions, the operational, environmental and regulatory risks are that much higher. Companies need to uphold even more rigorous safety regimes to ensure both their staff, and their infrastructure are adequately protected.
Leave Your Contact to Get a Copy of the Whitepaper
Thanks for downloading, we hope you find this guide useful. Please contact us to assist with your requirement.
100% privacy guarantee.
We'll never share your
email address.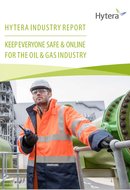 Ongoing digital revolution and unavoidable challenges
How to keep everyone online & safe via wireless radio communication solution
Hytera product overview