Innovate for a Safer World: Hytera Group at Critical Communications World 2018
Hytera is looking back on three successful exhibition days in Berlin: With the focus of the exhibition being "Innovation - Let's make the world safer", the global provider of innovative professional land mobile radio (LMR/PMR) communications solutions presented its comprehensive product and solution portfolio at the Critical Communication World 2018 and above all presented the latest innovations.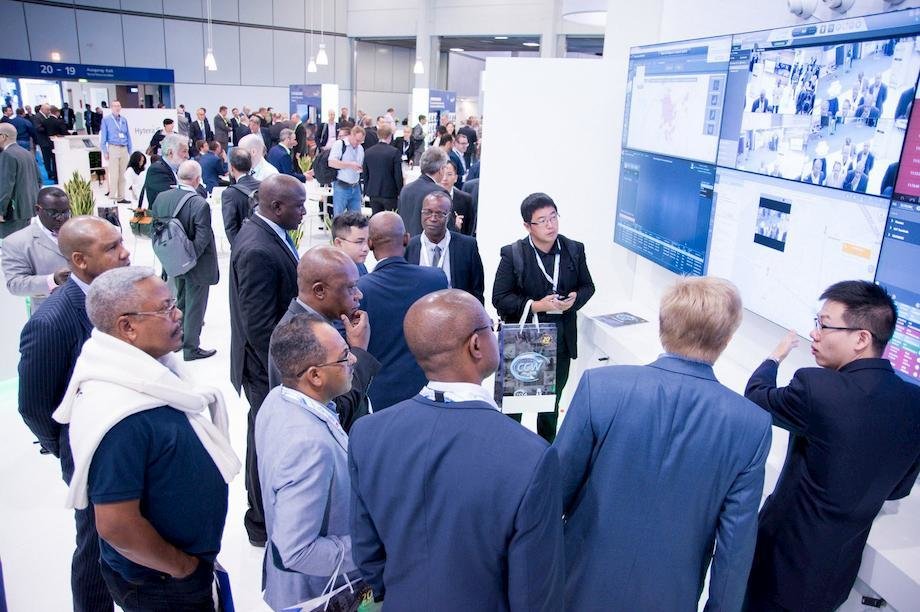 Global experts from Hytera helped shape the accompanying conference programme with lectures and presentations based around the correlating theme. Many visitors, customers and guests from all over the world took the opportunity to gain an insight about the latest innovations presented by the globally successful company. The entire portfolio of the group and its various brands were presented at the Hytera stand:
Narrowband Radios & Trunking
Hytera's comprehensive DMR and TETRA radios and solutions were showcased over the duration of three days. These included Sepura radios and the new TETRA base station DIB-R5 outdoor developed by Hytera Mobilfunk. During the show, Sepura also unveiled AppSPACE; an innovative applications environment for critical communications.
Smart Radios & System
The Hytera convergent solution integrates narrowband and broadband networks to provide unified voice, data and image transmission through multi-mode terminals, bodycams and supporting applications. The multi-mode radios, which combine narrowband TETRA and broadband services in one device, also attracted and retained a large audience. Aligned with one of the main topics discussed in the forum, Teltronic presented Hytera TETRA + LTE convergent solution, which enables a simple evolution from narrowband models, to providing broadband capabilities to the communications infrastructure.
One of the main novelties was P-PoC, the Hytera solution for mission critical multimedia services according to 3GPP standards MC-PTT, MC-Data and MC-Video. PTTconnect, the Push-To-Talk app for smartphones based on TETRA technology, also attracted a lot of attention. It is a PTT-over-Cellular (PoC) solution to turn your smartphone into a professional radio-like communication device.
Integrated Command & Control
The Integrated Command & Control (ICC) system by Hytera was one of the focal points for many visitors at the stand. The ICC combines multiple communication modes and data streams in one user-friendly solution. Equally on interest: a new generation of control centers by Teltronic, built over an open platform which increases performance and improves capabilities for users in public safety and emergencies. This solution is the result of combining years of experience, research and development of products for the professional communications market and has been designed for security bodies, assistance centres and other segments like transportation where several communications networks have to be integrated in consideration.
Emergency Response Solutions
In the field of solutions for emergency communication Hytera presented a range of new and innovative solutions. With Hytera iMesh and the Hytera E-Pack 100, communication networks can be installed efficiently in emergency situations in order to offer the best communication to the emergency forces on site for any given situation. Norsat GLOBETrekker portable satellite provides rapidly deployable temporary communication systems with voice dispatch and video capture.
Sinclair Antenna Technologies and fjord-e-design measurement technology
Rugged and reliant antennas, filters and RF conditioning solutions for mission critical applications were showcased at the CCW as well. In addition, Hytera's visitors were able to see and understand the capabilities of the RF AirAnalyzer, which enables TETRA operators to monitor the air interface.
Solutions for the transport sector
Infrastructure and onboard equipment, as well as control centers specifically designed for challenging working environments. A fully equipped demo on the stand showcasing the reliable solution manage voice, data and video with the aid of LTE Technology allowed visitors to discover how communication amongst train driver, control center and passengers occur.
Cybersecurity licenses and services designed to protect critical infrastructures
Teltronic extends its expertise to cyber security sphere in order to mitigate the ever-increasing cyber threats, avoiding breaches that could hamper critical infrastructures and, consequently affect the safety of all citizens.
"Hytera's booth shows so many new products and solutions. That's very impressive.
My visit to Hytera here in Berlin was very interesting. The wide range of innovations has convinced me very much that Hytera plays a very important role in the PMR market.I came to the CCW in Berlin especially for the multimode radio by Hytera."
From daily control and command to emergency response, disaster relief and counter-terrorism, all the products and solutions on display underlined how Hytera understand and invest in supporting the needs and demands of it's customers.
Hytera Lectures at CCW
Hytera took part in the conference programme with technology workshops and round-table discussions on best practices and case studies during the exhibition. Dr Michael Meincke, VP Sales Development of Hytera Mobilfunk, gave an overview about the company and also focused on Hytera's convergence solutions. Talking about the new LTE-multi-mode radios and the TETRA base station DIB-R5 outdoor, Bernhard Klinger, VP Business Development at Hytera Mobilfunk, introduced Hytera's latest TETRA innovations to the audience. Marta Fontecha, Product Marketing Director at Teltronic, delivered a lecture about TETRA+LTE convergence as the necessary solution to face the present and future of mission critical networks. Teltronic Product Manager Vicente Rubiella explained how rail operators can benefit from the latest communications technologies.
The trade fair presentation has been a complete success for the entire Hytera group. Hytera President and CEO Chen Qingzhou expressed his satisfaction during his visit in Germany:
"The global Hytera team have presented Hytera's product portfolio in an impressive manner and have put out the message that our innovations fit exactly to the future requirements of our customers."