Highlights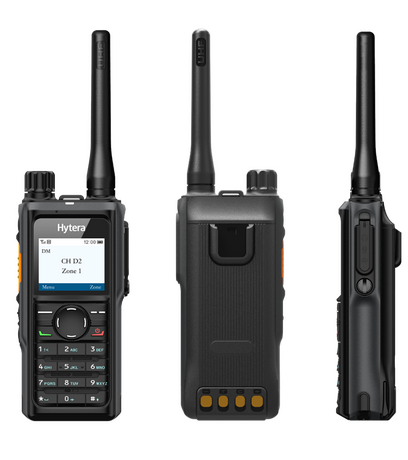 Rugged and Reliable
Dust and waterproof, rated IP67, sustaining performance in harsh environments
Clear Audio
AI-based noise cancellation technology to decrease the unwanted background noise and reduce howling.
Extended Range
The improved RX sensitivity provides better connectivity both in marginal areas and indoors.
GPS Location
Available as an optional extra, GPS for tracking and positioning also includes man down feature
Long Battery Life
Operating time of approximately 20 hours in digital mode
Functions
XPT
Hytera XPT (Extended Pseudo Trunking) enables you to use limited spectrum resources more efficiently, dynamically assigning channel resource without needing a dedicated control channel.
Pseudo Trunking
Using pseudo-trunking technology, slots can be shared to improve capacity usage with transmissions either direct to handset or to repeater.
Emergency Mode
Raise an alarm with top priority to other radios with the pre-programmed emergency mode, identifying the ID of the person issuing the alarm. Also receive emergency notifications.
Man Down
The man down feature will let you know if the radio has been tilted past a certain angle. This may happen for instance if the radio user has fallen over or is unconscious or injured. The alarm will be triggered after a warning is issued to the user.
GPS
Optional, enabling location based services to improve safety and control.
Bluetooth Audio
Optional, wireless connectivity to audio devices to improve user experience.
Roaming
Optional, roaming allows radios to move between sites in the IP Multi-site Connect system or XPT Multi-site system without dropping connection.
Audio
Carrying
Charger & Power
Battery
Antenna
Systems that work with HP682
DMR Systems
Technical Specifications
General
Frequency Range

VHF: 136-174MHz UHF: 400-527MHz

Channel Capacity

1024

Zone Capacity

64

Battery Life (5-5-90 Duty Cycle)

16h (GNSS on) 20h (GNSS off)

Dimensions

122 x 55 x 31.5 mm

Weight

280g

Display

160 x 180 pixels, 65536 colors, 1.8 inch 6 rows

Keypad

Yes
Environmental Specifications
Dust & Water Intrusion

IP67 Standard

Operating Temperature

-30°C to +60°C