Highlights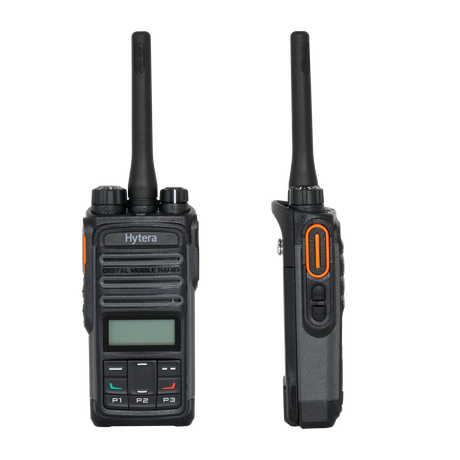 80-channel CB
As the FreeTalk® 477 logo indicates, this radio requires no license for use of all narrowband 80 CB channels including 16 repeater channels.
Commercial Channel Mode Ready
Hytera's PD462 is more than just a CB capable radio. There are in total 256 channels. When CB channel mode is enabled, it still allows 176 channels (450-520 MHz) to be programmed. When CB channel mode disabled, it supports 256 programmable channels (450-520 MHz).
CTCSS/CDCSS Stand-by
Users can manually enable, disable or modify the CTCSS/CDCSS function via the radio menu. It is a welcome feature when there is a lot of radio traffic. Where more than one user group are on the same channel, CTCSS filters out other users if they are using a different CTCSS tone or no CTCSS. This allows you to set up the radio so you only hear calls from your own group – everything else is ignored.
Scan
PD462 supports not only scanning in programmed list, but also functions below: 1. Via programmed buttons, users can enable or disable this scan feature. 2. From the displayed menu, users can also add or delete the channels in the scan list. So the noisy channel can be temporarily removed.
Talk around
When working under a repeater, this function allows radio to communicate when the repeater is out of range or the repeater is down. Via the programmable button or the radio menu, the radio can use a receiving frequency to transmit. This allows the radio using simplex transmission and the radio in repeater mode to receive signal from the Talk Around operated radio.
Functions
Dual Mode (Analog & Digital)
Dual modes (analog & digital) operation ensures a smooth migration from analog to digital.
Long Battery Life
In digital mode, PD462 operates at least 16 hours under a duty cycle of 5-5-90 @1500mAh.
VOX
The VOX (Voice-operated Transmit) feature allows you to trigger the voice transmission by voice directly rather than pressing PTT button. This brings more convenience to you in the use of your radio.
Audio
Antenna
Charger & Power
Battery
Carrying
Programming
Systems that work with PD462
Technical Specifications
General
Frequency Range

UHF: 450-520MHz

Channel Capacity

256

Channel Spacing

25/12.5KHz

Operating Voltage

7.4V

Battery

1500mAh (Li-Ion) 2000mAh (Li-Ion)

Battery Life (5/5/90 )

Analog/Digital: 12/16 hours (1500mAh) 16/22 hours (2000mAh)

Weight

280g

Dimensions

112×54×30mm

Frequency Stability

±0.5ppm

Antenna Impedance

50Ω
Environmental Specifications
Dustproof & Waterproof

IP54 Standard
Features
RRS

NO

GPS

NO

Telemetry

NO

Option Board

NO

Intrinsically Safe Option

NO

Bluetooth Audio

NO

Radio Check

NO

Alert Call

NO

Stun / Unstun

NO

Remote Monitor

NO

Priority Interrupt

NO

IP Site Connect

NO

Roaming

NO

5 Tone Signalling

NO

2 Tone Signalling

NO

HDC 1200 Signalling

NO

VOX

YES

Priority Scan

YES

Intelligent Audio

YES

GPS SMS

NO

Vibration

NO

Emergency Mode

NO

Lone Worker

NO

Mandown

NO

Scrambler (Analogue)

NO

Digital Encryption

NO

Pesudo Trunking in DMO and RMO

NO

Multiple Key Encryption Decode

NO

Multi-language Menu

NO

Pseudo Trunking in DMO and RMO

NO

Power on & off user logo programming

NO

Voice Interrupt

NO

No of Contacts (Conventional)

64

Text Messaging

NO

MPT1327 / 1343 Trunking

NO

Tier 3 Trunking

NO

XPT

NO

Wireless Charging

NO

RFID Reader

NO

Mixed Mode Operation

NO

Data Services via Bluetooth

N/A