Highlights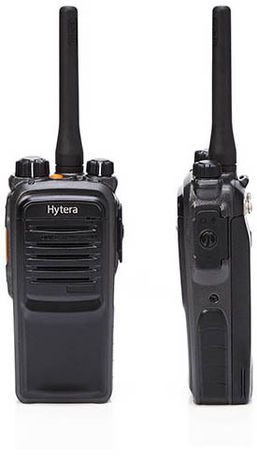 Rugged and Reliable
Dust and waterproof, rated IP67, sustaining performance in harsh environments
Simple Intelligent Design
Easy to grab and communicate instantly, with a large push-to-talk (PTT) and programmable emergency button
Safer Workforce
Emergency button, priority interrupt and lone worker features are provided as standard
GPS Location
Available as an optional extra, GPS for tracking and positioning also includes man down feature
Effective Communication
Making better use of the channel capacity with Hytera Dual-Slot Pseudo Trunking and compatible with XPT and DMR Tier III (licenced)
Functions
Larger Li-Ion Battery capacity, longer cycle life
Equipped with 2400mAH and UL913/CSA certificated Li-Ion battery, PD702 UL913 provides with shift life of 18 hours under 5-5-90 duty cycle. And the battery life-span is longer as the charge/discharge cycles reduced.
Secure Communication
Besides the basic encryption of the digital technology, PD702G provides enhanced encryption capability (such as 40, 128, 256-bit encryption algorithm) and the Scrambler feature.
Dual-slot Pseudo Trunk
With this feature, the free slot can be allocated to a member that needs to communicate, effectively enhancing frequency efficiency and allowing you to communicate timely under emergency situations.
Dual Modes
PD702G can operate in either analog or digital mode. It is compatible with the prevalent analog system, ensuring a smooth analog-to-digital transition.
Data Services
PD702G supports data capabilities of sending Privates and Group text message. It also supports Third Party applications to control the radio via Third party API (GPS, Radio Registration Services, Radio and Call Control, Telemetry*, Data Transfer*), via Telemetry control to radio.
Enhanced Safety
PD705G UL913 provides a dedicated emergency button. In case of any accident, a press on the button will trigger an alarm and initiate a voice call to a pre-programmed work fellow or group. Man-down, Positioning Services and Lone Worker features further ensure the safety.
Accessories for PD702 UL913
Audio
Antenna
Installation
Charger & Power
Carrying
Systems that work with PD702 UL913
DMR Systems
DMR Applications
TETRA Applications
Technical Specifications
General
Frequency Range

VHF: 136-174MHz; UHF1: 400-470MHz: UHF2: 450-520MHz; UHF3: 350-400MHz; UHF5: 806-941MHz

Channel Capacity

256 (16 zones with 16 channels per zone)

Digital Protocol

ETSI-TS 102 361-1,2 & 3

Battery Life (5-5-90 Duty Cycle)

2000mAh, Analog 10.5 hours, Digital 14 hours

Dimensions

4.92" x 2.16" x 1.37", 125 x 55 x 37mm

Weight

11.81 oz, 335g (2000mAh Li-Ion)

Display

No

Keypad

No

Programmable Buttons

3
Environmental Specifications
Dust & Water Intrusion

IP67 Standard

Intrinsically Safe

YES

Operating Temperature

-30°C to +55°C

Humidity

Per MIL-STD-810 C/D/E/F/G Standard

Vibration

Per MIL-STD-810 C/D/E/F/G Standard

UL913 Rating

Class I II III-Division 1, Group C-G, -30°C to 55°C T4 Class I Division 2, Group A-D
Features
RRS

YES

Telemetry

YES

Option Board

YES

Radio Check

YES (decode only)

Stun/Unstun

YES (decode only)

Remote Monitor

YES (decode only)

Priority Interrupt

YES

Intelligent Audio

YES

5 Tone Signalling

YES

2 Tone Signalling

YES

HDC1200 Signalling

YES

Priority Scan

YES

GPS SMS

PD702G only

Digital Encryption

Basic encryption as standard (10, 32 & 64 character keys). 40 bit Enhanced Encryption as Standard (latest firmware required). Advanced encryption (Hytera or DMRA 128-bit and 256-bit AES) available.

Multiple Key Encryption Decode

YES

Multi-Language Menu

No

Power on & off user logo programming

No

Pseudo Trunking in DMO and RMO

YES

Number of contacts (Conventional)

Digital 1024; Analog 2-Tone 32; Analog HDC1200 N/A; Analog 5-Tone N/A

Number of Contacts (Trunking)

Private Contacts 512; Group Contacts 2047

Text Messaging

256 characters (via Quick Text only)

Quick Text Messages

Up to 25 pre-programmed via CPS

MPT1327 / 1343 Trunking

YES

XPT Trunking

YES

Tier 3 Trunking

YES

Over-the-Air Programming

Yes via SmartDispatch
GPS Specifications(For the Model with GPS)
Horizontal Position Accuracy

<5m (50% probable) <10m (95% probable)

Cold Start (Time to First Fix)

<1 minute

Hot Start (Time to First Fix)

<10 seconds

Note

Accuracy specs are for long-term tracking(95th percentile values>5 satellites visible at a nominal -130dBm signal strength)
Environmental
Operating Temperature

-30℃~+55℃

Storage Temperature

-40℃~+85℃

ESD

IEC 61000-4-2(level 4) ±8kV(Contact) ±15kV(Air)

MIL Standard

MIL-STD-810 C/D/E/F/G

Humidity

Per MIL-STD-810 C/D/E/F/G

Dust & Water Protection

IP67

Shock & Vibration

Per MIL-STD-810 C/D/E/F/G