FREE WHITEPAPER DOWNLOAD
What Is eMBMS
The fast-growing demand for video and multimedia content over mobile networks leads to high requirements in terms of data rate and radio resource management. According to the multicast standard in 3GPP LTE, evolved Multimedia Broadcast/Multicast Service (eMBMS) is one of the most viable solutions to meet such standards. MBMS Single-Frequency Networks (MBSFN) is an operation mode that allows combining of MBMS transmissions from closely time-synchronized cells by using the same radio resource across those cells. In this way the signals can be combined constructively and the spectrum efficiency is improved.
This white paper aims to provide a comprehensive insight of the mechanism of eMBMS and MBSFN, as well as their implementation in Hytera P-LTE system.
Leave Your Contact to Get a Copy of the Whitepaper
Thanks for your interest. If you're looking to upgrade to Hytera, please speak with a Hytera partner to assist with your requirement.
100% privacy guarantee.
We'll never share your
email address.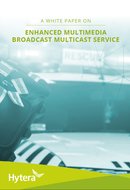 Why is eMBMS important to public safety
eMBMS system architecture
Comparison between Unicast, Broadcast and Multicast